History of Banarasi fabric
In words of mark twain"banaras is older than history, it is older than tradition and even older than legend itself"and guess what?? He wasn't wrong!!Banaras is the center for mysticism, spirituality, the" origin city of being" according to Hindu mythology, a silent watchmen of centuries gone by. It was banaras which gave way to an art worth cherishing, worth preserving. A form of art known to us as "banarasi silk" which has lately started getting the long due appreciation it deserves. Banarasi silk is a silk woven into excellence which not just seduced kings and royals with it's charisma but Gods as well. It won't be an exaggeration to call banarasi silk as one of the world's finest and the most authentic in the present scenerio, for the finest quality of silk thread being used in it and the truckload of effort that goes at the time of the preparation.
Preparing silk, "the God's way"
Banarasi silk isn't just a fabric but am ode to hardworking and passion put into a form so beautiful to eyes, that written knowledge of it being donned by Gods is found in Rig veda, as Hiranya the cloth made of gold, a gold drape worn by Gods which comes closest to the description of today's banarasi silk, still known to us as the fabric of God's. Even old times jataka and pali takes talk about the flourishing fabric trade at the banks of kashi.
But it's not like as if banarasi silk have always been there, while banaras had always been a loaded cotton hub, the banarasi silk found it's share of weavers only after the famine of 16th century when silk weavers from Gujarat found there way to the holy city in search of better life and survival. It was when banaras took a change of faith from its very own cotton to silk. Though it wasn't just the migration of Gujarat weavers to banaras but the needed push and love for all things zari from the King of Kings emperor Akbar which acted as a catalyst in this breakthrough tradition. It was the advent of mughals which brought with the intricate zari work to banaras, the tradition which became culture in time. The role of Mughal emporer Akbar behind how the weaving industry of banaras sustained so far is the most outstanding, it was his affinity to zari(the art of weaving gold threads into fabric making designs and patterns out of it, giving it a just look of a royal fabric)only which at first adorned the royal women of his harem and later the palace itself, with everything from carpets, drapes and sheets made of banarasi silk made out of silk and gold threads woven brilliantly into it.
The Skilled touch. .
While earlier the raw material required for banarasi silk fabric was mainly manufactured from China, today it comes mostly from South India which has done a huge cost cutting. The preparation of banarasi silk fabric takes expertise and dedication, generations and generations of families belonging to weaving industry pass the knowledge of banarasi silk weaving from one to another, giving them an insight in silk weaving while at the same time making it difficult for a noob to enter the industry. A banarasi silk fabric is the most sorted out in saree and suits for it's high quality material and the sheen that the combination of silk thread and gold and silver thread brings about, when woven together. A banarasi silk pattern is first drawn into no. Of patterns known as naksha patra to know the alignment of threads of that of silk and gold. Then just like braille technique it is then wove into the patterns leaving no chance to any mistake. A simple banarasi silk saree may take upto anything from fifteen days to six months or even one year, depending on the intricacy of the zari worka and the no. Of craftsmen being employed in silk weaving. The most popular zari designs being the entwined vines from that of Mughal period, bootti, floral patterns, scenes from the Indian wedding and mythological characters, which makes it price go right through the sky.
The varieties being. .
There are four variations of banarasi silk sarees based on the raw material used, while six when it comes to the style of weaving and the patterns. Them being Jamdani, jangla, tissue, cutwork, butidar and tanchoi.
Where tanchoi has a kaleidoscope kinda pattern giving an impression of a maze which uses extra colourful silk yarn to create a outline, jangla is woven with colourful silk yarn with cotton scrolling all over the saree, with it being a saree marked specially for the festivities. Jamdani being woven as a variation of figured muslin. Butidar is a dark blue silk saree with silver and gold zari work all over the saree, the dark gold and light shade or silver creating a holistic aura, thus giving it a name ganga jamuna saree. Cutwork saree where the patterns are created by taking off the part of floated threads, while in tissue banarasi silk saree, zari work is done on a huge part of saree fabric, which makes most part of it look golden in colour.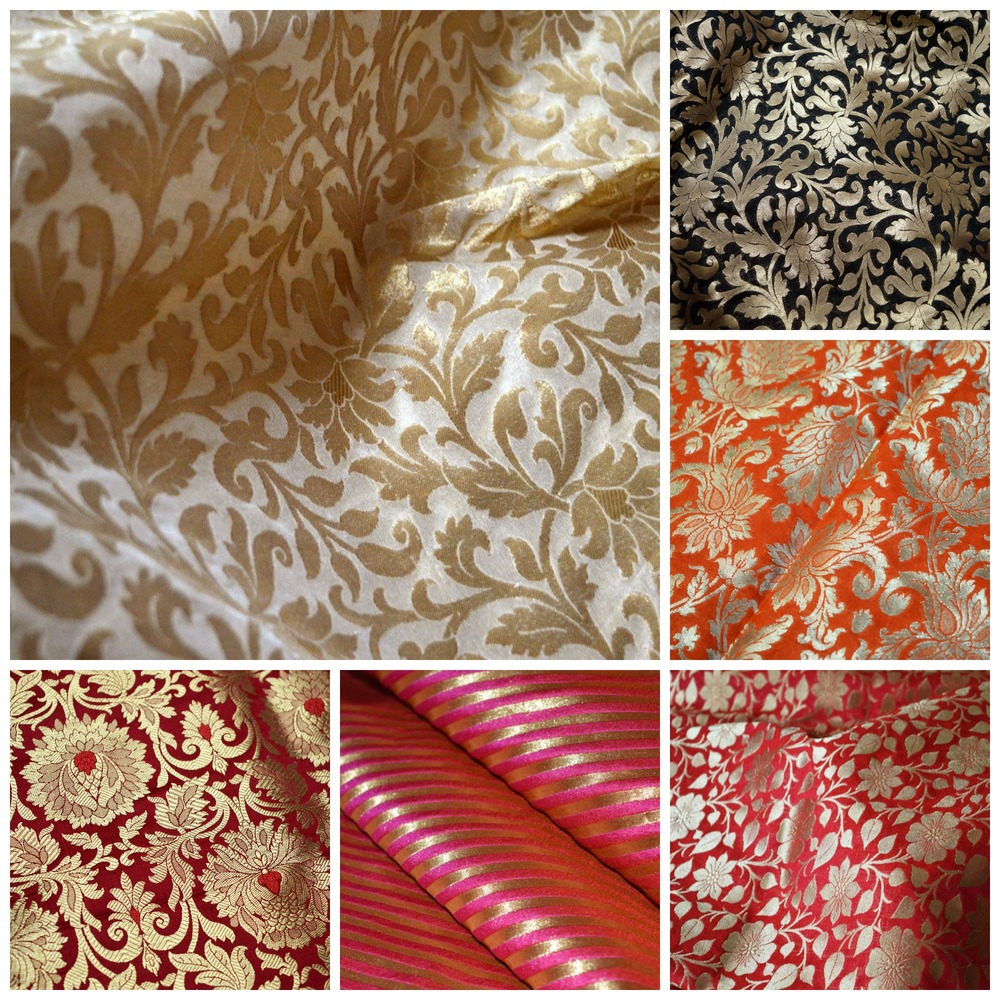 But not everything is gold when it comes to banarasi silk, the advent of power loom snatched the employment from the hands of expert craftsmen, whose generations swear by their knowledge of banarasi silk weaving, and who mainly worked on handloom, giving the banarasi silk fabric the ethereal authenticity and a touch of raw beauty. But machine made cloth with it's mechanical uniformity and unreal perfection fails to create the aura, a hand woven fabric brings about, the present government though ensured every possible help that could be of any push for the well being or the banarasi weavers, so they can continue with their age old tradition of weaving banarasi silk. But it gets harder at every point, even the gold thread used for zari work has lost it's credibility, as imitations rule the market for they are cheaper as compared to the authentically woven fabric, as it is woven with compromised fabric and at the place of gold, the imitators employ copper alloys dyed as gold or silver thread which is not visible to anyone other than the expert eyes, but is very shabby thread work when touched from the back of the fabric. Though it won't take much for an expert to understand if it's an original banarasi silk or a sham, for general crowd, the government of India has issued a G. I. take to banarasi silk, giving the banarasi weavers the due share of their sweat and hard work, and making it a point that only banaras weavers and the few selected areas around gets the sole right to deliver this magnificent work of art thus saving people as much as from the sham.
For the love of all things good. . .
The love for banarasi silk is seen as much as in general public and the celebrities alike, banarasi silk sarees salar suits and kurtis have become an usual affair at voguish b-town parties and the functions, it has reached as far as hollywood which was recently visible at a party, when serrena Williams and tennis star maria Sharapova were seen donning banarasi saree at a party. When it comes to b-town beauties, sonam kapoor, deepika padukone, anushka sharma, the eternal beauty Rekha who's love for banarasi silk isn't a secret to anyone, and almost every old time actresses. Talk about the affinity for the banarasi silk, it was such that World renowned beauty Aishwarya Rai Bachchan specially went to banaras, to shop for banarasi silk sarees for her wedding with Bollywood hunk Abhishek Bachchan. Even the most sorted out designers like Sabyasachi Mukherjee and Neeta lulla swear by their love for banarasi silk , which is quite visible in most of their wedding couture. So much so, Sabyasachi with a high end designer from Hollywood launched a range or weeding footwear made out of banarasi silk, which took the fashion world by awe.
Saving it the easy way. .
It is quite understandable that banarasi silk requires no less attention for any wear or tear caused to it, may cost dear to the owner for it's a bit costly and one of the most sorted out saree in someone's wardrobe. To avoid any such incidents, it should be taken care of like any others silk saree plus some extra effort for the zari work, so either one can wrap it in a muslin cloth and store it in a wooden box, to avoid contact with air or hang it on a hanger but only after wrapping it in a muslin cloth. But an important rule to keep in mind weather you are storing it in a box or hanging it on a hanger is that since banarasi silk is a delicate fabric, one need to change it finds from time to time to avoid any extra pressure on the fabric that may instigate wear and tear of the fabric.
So keep flaunting your banarasi, for the world to see what a masterpiece we humans are capable of creating, and keep shining bright and keep looking as ageless as a banarasi silk.
Reference:-
https://en.wikipedia.org/wiki/Banarasi_sari